Mobile App Development Powering Digital Experiences
In an age dominated by smartphones and instant gratification, having a dynamic mobile presence is no longer a luxury but a necessity. With over 5 billion global mobile users, the potential for mobile apps to drive business growth and engagement is immense. Whether you aim to tap into this vast market or offer more value to your current clientele, our mobile app development services are your gateway to digital success.
Core Functions of Mobile App Development:
User Experience (UX) Design:
More than just pretty interfaces, we delve deep into your user's psyche, designing intuitive and user-friendly apps that ensure maximum engagement and minimal friction.
User Interface (UI) Design:
Merging art with technology, our UI designs aren't just visually pleasing but also functionally perfect, resulting in stellar user feedback and increased app stickiness.
Catering to unique business needs, we customize apps across various sectors – be it e-commerce, healthcare, finance, or education. Your vision, our execution.
Cross-platform Development:
In the iOS vs Android battle, why pick sides? With our cross-platform development, ensure your app runs smoothly on all devices, multiplying your reach.
An app's journey doesn't end post-launch. We offer round-the-clock support, regular updates, and ensure your app remains compatible with the latest OS versions and devices.
Integration with existing systems:
We ensure seamless integration of mobile apps with your existing CRM, ERP, or any other systems, ensuring data flow is smooth and systems talk to each other effectively.
Why Mobile App Development is Crucial:
With an average user spending over 3 hours on their mobile daily, apps serve as a constant brand reminder.
Enhanced Customer Engagement:
Mobile apps offer a direct communication channel, fostering loyalty and driving sales.
Understand your customers better. Monitor user behavior, preferences, and feedback to tailor offerings accordingly.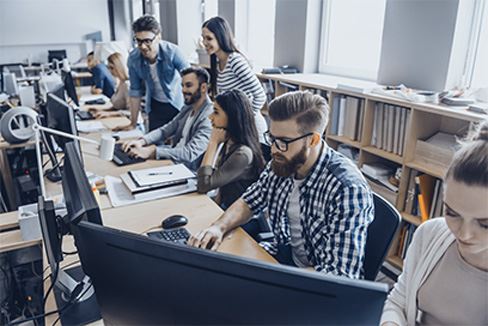 At Webcube, we don't just develop mobile apps; we curate experiences. With cutting-edge technology, data-driven strategies, and an artistic touch, we transform your ideas into mobile realities. Leveraging the best SEO practices, SMO strategies, and digital marketing insights, we ensure your mobile presence is formidable and easily discoverable. Creating a mobile app requires a blend of technical prowess and artistic intuition. And making sure that app stands out in an overcrowded market requires keen marketing acumen. That's the holistic solution we provide, ensuring not just creation but also visibility.