Navigating the Digital Landscape with Precision
In today's rapidly changing digital age, being present is no longer enough; being impactful is the key. Digital marketing offers a myriad of tools and platforms to broadcast your brand message and connect with your desired audience wherever they are.
Pivotal Functions of Digital Marketing
Search Engine Optimization (SEO):
A robust SEO strategy transcends keyword stuffing. It involves a holistic approach encompassing on-page and off-page strategies, quality content creation, link building, and staying updated with the ever-evolving search engine algorithms.
Pay-Per-Click (PPC) Advertising:
Gain immediate visibility on search engines and platforms like Google, Bing, and Amazon with targeted ads. Harness the power of keyword research, ad copywriting, and conversion optimization to get the most out of every click.
Expand your reach by collaborating with influencers and bloggers in your industry, generating organic buzz and widening your audience base.
Online Reputation Management (ORM):
Your brand's online reputation can be the deciding factor for potential customers. Monitor, address, and enhance your brand image across platforms.
Social Media Optimization (SMO):
Your audience lives on social media. Engage with them through compelling content, interactive posts, and targeted ads on platforms such as Facebook, Instagram, LinkedIn, and Twitter.
Create a brand narrative that resonates. Be it blogs, infographics, videos, or podcasts, producing quality content positions your brand as an industry thought-leader and drives organic engagement.
Directly engage with your customers through tailored email campaigns. Segmenting your audience, crafting compelling subject lines, and personalizing content can lead to improved open and conversion rates.
Analytics and Data Insights:
What gets measured gets improved. Tools like Google Analytics, HubSpot, and SEMrush provide crucial insights into campaign performance, user behavior, and areas of improvement.
Why Digital Marketing is Imperative for Brands Today:
In a world of scrolling and searching, you want to be where your customers are, capturing their attention and interest.
With precise targeting and real-time analytics, allocate your budget where it's most effective.
Engagement and Conversion:
Interact with your audience, nurture leads, and drive them down the sales funnel with tailored strategies.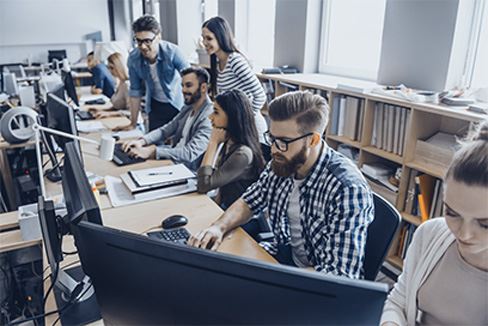 At Webcube, we understand the nuances of the digital space. Leveraging cutting-edge tools, innovative strategies, and data-driven insights, we craft digital marketing campaigns that resonate and deliver. In the vast ocean of the internet, let's make waves together.
Integrating your cloud services with a robust digital marketing strategy ensures that your offerings are not only state-of-the-art but also easily discoverable in the vast expanse of the digital world.