The Sky is the Digital Limit
Enable Your Business To Its Maximum Potential With Cloud Innovation
In today's digital-first environment, cloud services have emerged as the backbone of modern businesses. They offer unparalleled flexibility, scalability, and cost-effectiveness, making them indispensable for organizations aiming for agility and efficiency in their operations.
Core Functions of Cloud Services:
Disaster Recovery and Backup:
Data is the new gold, and its security is paramount. Cloud services ensure your data remains safe, backed up, and can be restored swiftly, minimizing downtime and potential revenue loss.
Harness the power of big data without massive infrastructure investments. Cloud-based analytics tools offer insights, patterns, and trends, driving informed business decisions.
Infrastructure as a Service (IaaS):
Say goodbye to physical servers. IaaS provides virtualized computing resources over the internet, ensuring scalability and flexibility in IT operations without the hassle of managing the underlying hardware
Platform as a Service (PaaS):
Developers, rejoice! PaaS provides an environment to build, deploy, and manage applications without the intricacies of maintaining the infrastructure. It's all about focusing on coding and creativity.
Software as a Service (SaaS):
Streamline business operations with software available on-demand via the cloud. From CRM systems to collaborative tools, SaaS offerings ensure accessibility from anywhere, anytime.
Importance of Cloud Services in Today's Landscape:
Adapt and evolve as per business demands without the constraints of traditional IT infrastructure.
Pay-as-you-use models eliminate hefty upfront investments and reduce overall IT expenditure.
Collaboration Efficiency:
Cloud platforms enable seamless collaboration across geographies, breaking down silos and fostering innovation.
Scale up or down based on operational demands without any disruptions.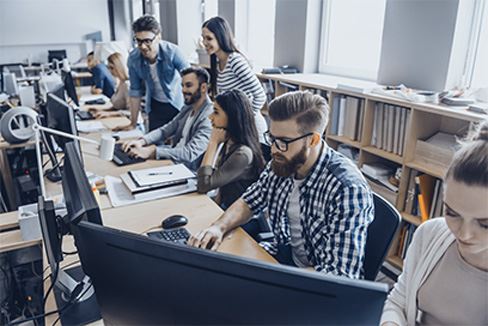 At webcube, we understand that the future is in the cloud. With our expertise in cloud services and a keen understanding of the digital landscape, we're here to elevate your business to new heights. By integrating SEO best practices, leveraging SMO strategies, and keeping a finger on the pulse of digital marketing trends, we ensure your cloud endeavors are visible and resonate with your target audience.
Integrating your cloud services with a robust digital marketing strategy ensures that your offerings are not only state-of-the-art but also easily discoverable in the vast expanse of the digital world.